North Okaloosa Community Band to perform Monday
CRESTVIEW — The North Okaloosa Community Band will present its free spring concert on Monday.
Featuring music from around the world, the concert is a fitting way for the band to celebrate its fifth anniversary.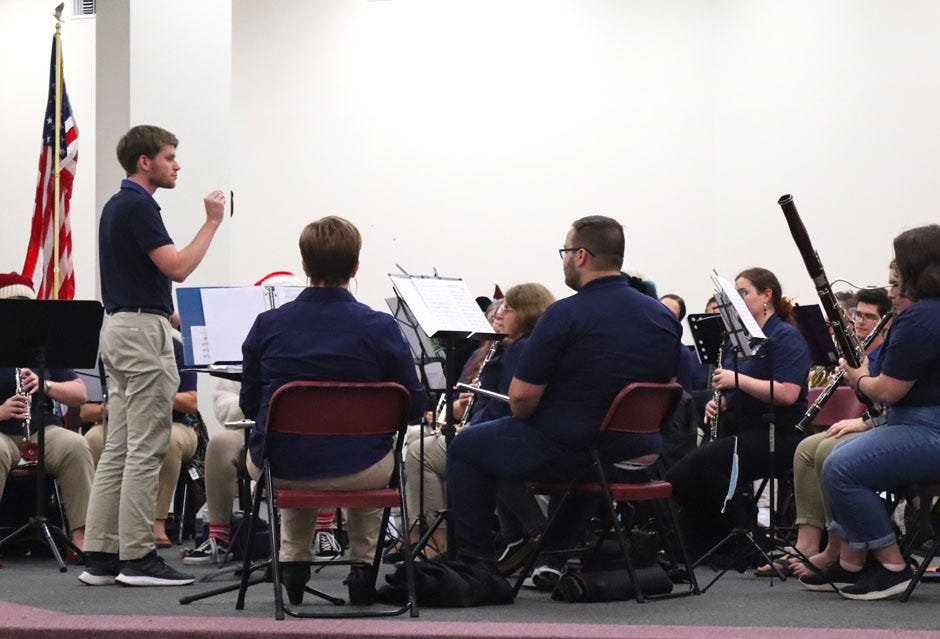 Formed in 2016, the band has grown to more than 50 members, whose ages range from 18 to 80, plus middle and high school band students perform with the ensemble as well.
The concert is scheduled for 7 p.m. May 3 at the Crestview Community Center, 1446 Commerce Drive.
It is under the direction of Kim Whaley, assistant band director at Crestview High School, and Stuart Campbell, band director at Baker High School. The performance is a program of the Mayor's Cultural Series.
"I'm always pleased to sponsor our community band's Crestview performances," Mayor JB Whitten said.
"Not only are they really enjoyable, quality events, but they 'raise the bar' by enhancing our city's cultural life," he added, using the city's 2021 motto.
As the band grows, it continues to add new music to its repertoire, allowing concerts to feature new selections, as well as previously performed favorites.
For the spring concert, the band's librarian, Jeannine Cochrane, said a special guest artist will enhance the audience's experience.
"Ingrid Roberts will play solo violin for the 'Theme from Schindler's List' by John Williams," Cochrane said. "The band will accompany her. Ms. Roberts is an accomplished violinist and frequently plays with area symphony orchestras."
During the evening the band will "travel" on the wings of song as they perform selections from or associated with Ireland, Belgium, Wales, Paris and Acadiana, among other locations.
Pieces to be performed include "Irish Tune from County Derry," "March of the Belgian Paratroopers," and "Within the Castle Walls: Songs of Welsh Revolution." A quartet formed by band members will accompany the rest of the band in "At a Dixieland Funeral."
Selections from Sir Andrew Lloyd Webber's "The Phantom of the Opera" evoke the long-running West End and Broadway stage spectacular, while "Bayou Breakdown" and "Flourish for Wind Band" will complete the eclectic program.
While admission is free, donations are gratefully accepted and benefit the band's music acquisition and The Friends of the Arts, a Crestview arts program tasked with producing arts events, funding equipment and maintaining the grand piano for Warriors Hall.
This article originally appeared on Crestview News Bulletin: North Okaloosa Community Band to perform Monday