Florida Chautauqua Theatre presents 'Mermaid' through May 12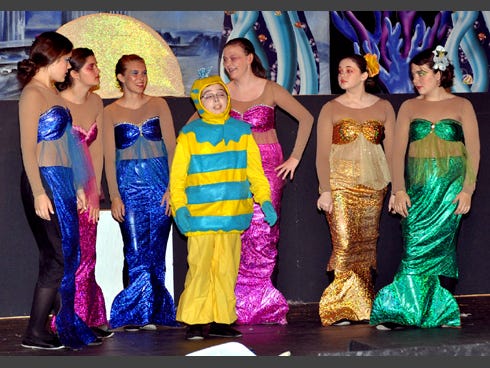 CRESTVIEW — The curtain on "The Little Mermaid" rises this week at the region's premiere children's theatre.
Performances are 7 p.m. through May 11, and include a 2:30 p.m. matinee May 12.
Plunge "Under the Sea" when the Florida Chautauqua Theatre brings the classic story to life in the 2008 Walt Disney stage version of the studio's 1989 animated film.
All the memorable Alan Menken and Howard Ashman Academy Award-winning songs that audiences loved in the film — including "Kiss the Girl," "Under the Sea" and "Part of Your World" — are in the stage musical.
Several more songs were penned for the stage version, which Disney's theatrical branch hoped would be the next "Lion King." While the latter wows Broadway audiences after more than 15 years, "Mermaid" ran less than two years.
This time, director Beth Campbell-Work will populate the former downtown DeFuniak Springs cinema stage with 42 young thespians, some as young as 5 years old.
Many of the student actors will perform "The Little Mermaid" as the culmination of a semester of study in the Music and More theatre workshops program.
Want to go?
The Disney stage musical "The Little Mermaid" runs 7 p.m. through May 11 and 2:30 p.m. May 12 at Florida Chautauqua Theatre, 847 Baldwin Ave., DeFuniak Springs. Tickets are $15 for adults, $10 students 22 and under. Contact 892-9494 or email info@fcweb.org for reservations.
Contact News Bulletin Arts & Entertainment Editor Brian Hughes at 850-682-6524 or brianh@crestviewbulletin.com. Follow him on Twitter @cnbBrian.
This article originally appeared on Crestview News Bulletin: Florida Chautauqua Theatre presents 'Mermaid' through May 12