By Wendy Victora Rudman
Memberships are now available online at the new Blackwater Golf Club, which rolled out information about the renovated course at the Jan. 6 Crestview Area Chamber of Commerce Networking Breakfast.
Hundreds attended the monthly breakfast, but only one – Hub City Smokehouse BBQ & Grill owner Mike Carroll – wore canary-yellow knickers and a matching hat.
Carroll, who will operate The Crossing at Blackwater on the west side of the new city golf club, has also been named the City of Crestview's 2022 Citizen of the Year for his contributions in 2021.
City Manager, Tim Bolduc, who spearheaded the city's purchase of the old Foxwood Country Club, gave an update at the gathering about the course and the new driving range, while Carroll talked about his new full-service upscale restaurant and bar.
"We are going to be the premier golf club in Okaloosa County," Bolduc said, to which someone in the closest row of tables yelled, "Yeah!"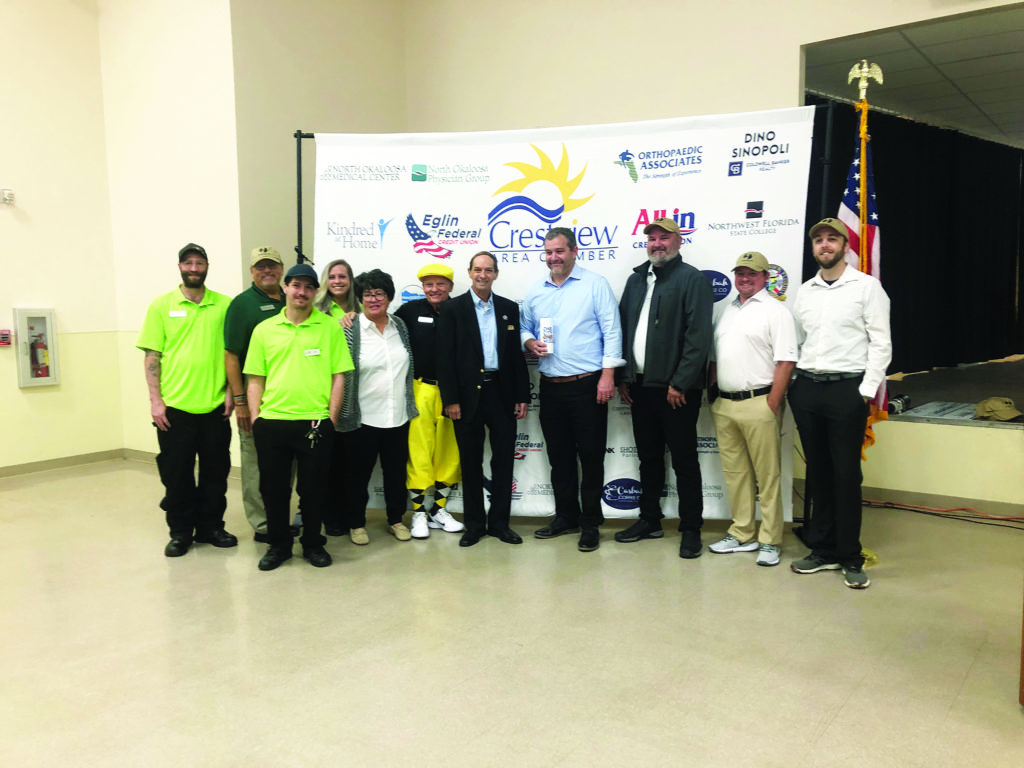 "This is a new challenge for us," Bolduc said. "I've never been as excited about a new venture as I am with this course."
Carroll said that golf courses struggle if they are just golf courses, which is why the new restaurant is so important. The Crossing at Blackwater will seat 120, offer a full bar, dart boards and pool tables, as well as meeting facilities and an outdoor patio that can seat 150.
"We're making it a destination," he added. "We're just super excited."
Food will also be served at the "drive bar," which is attached to the Toptracer driving range. Bolduc drew laughter from the crowd when he called it a "dive bar" by mistake.
Six members of the lively crowd were then called onto the stage for a putting contest. They were selected for their lack of skills at previous chamber golf outing, Bolduc teased. He chose Crestview Fire Department Chief Anthony Holland for one team and Crestview Police Department Chief Stephen G. McCosker for the other.
The range and the first nine holes of the course will open Feb. 11, while the full course will open St. Patrick's Day. Monthly rates start at $199 for a single membership to $299 for a family membership. There are 200 presale memberships available for $50 a month under the regular rate and sales were strong on the first day.
Active-duty military, first responders and Crestview City residents receive a 10% discount.