The biggest hurdle of Wack's tenure has been the emergence of the COVID-19 pandemic.
During the pandemic, Wack instructed all Catholic churches in the Diocese to suspend all masses until further notice. He said decisions like that were hard to make but that he didn't regret trying to keep people safe. Personal sacramental needs like confession were handled at an individual church level.
While there were no public masses for a time, the use of online streaming increased amongst churches in the Diocese, who still had to continue the mission of the church. Many churches, and church leaders, had to learn how to set up live streaming for Mass.
"Some priests went from having flip phones to being like movie producers," Wack said jokingly.
Wack believes having to livestream services may have been a net positive as they were able to reach even more people than they had before, including those outside of their parishioners.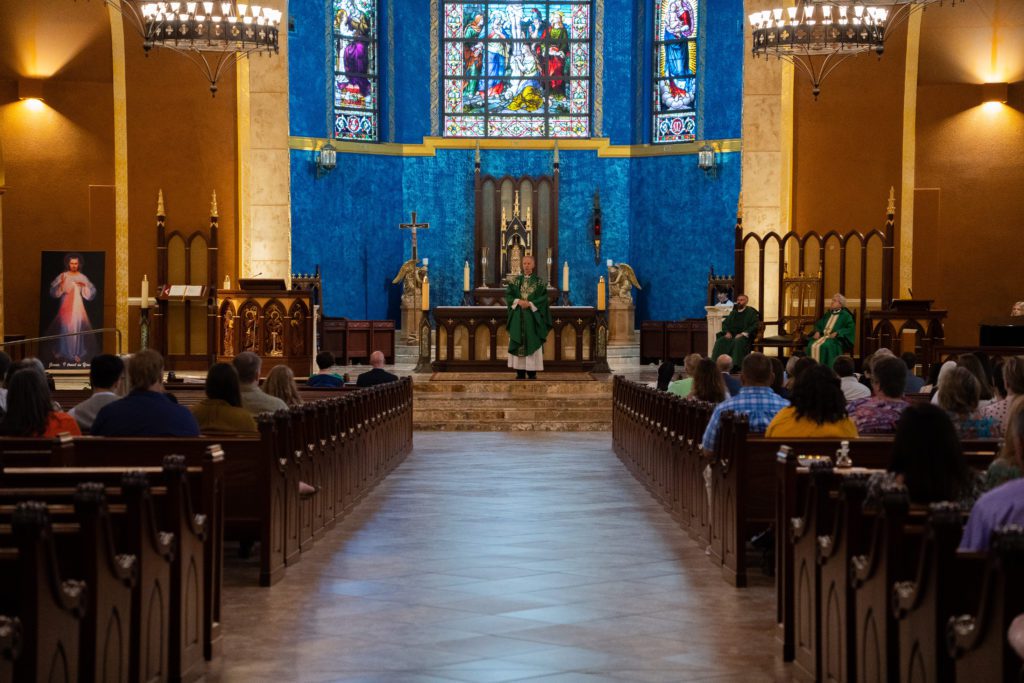 Part of the pandemic was social distancing and avoiding crowds, especially in indoor spaces. Wack said this forced the church to go out into the community more and evangelize, something the church had been neglecting in the Bishop's opinion.
"For centuries, we have been content with just opening the doors and letting people come into our church," Wack said. "What we realized is they aren't coming in, we have to go get them. We have to go teach them about the faith and invite to our churches again."
On top of overcoming the COVID-19 pandemic, the Diocese has been renovating and expanding a few cathedrals and schools across the Panhandle.
In a Facebook live earlier this year, Wack said being bishop has been hard at times but rewarding.
Before becoming Bishop of the Diocese, Wack had never held the title nor the role. He had been serving as a priest for eight years in a parish in Austin, Texas, when he received a call from a papal nuncio, a representative of the Pope, that would change his life.
He was told he was being named a bishop and would be moving to Northwest Florida, a place he had never been before.
"When I came, it took me awhile to get adjusted and get settled into the role. Then we had to deal with some hurricanes and other things that happened but finally now, after about three and half years, I feel like I know what I am doing and I've got some ideas for growth," Wack said. "I'm not just reacting and responding. It is time to look forward and make plans for the future."
Part of planning for the future involves having a strategy of how to move forward. Wack said he wants to work with others in the Diocese to come up with a strategic plan for what exactly they want to do and accomplish.
Wack said one of his biggest plans is spending more time in the various parts of the Diocese. He said that once the pandemic subsided, he began to travel to different parts of the country for various Catholic events. For Wack, a new year brings the promise of new opportunities to focus on the Diocese.
"My goal is to spend more time out of the office and visiting parishes and schools," Wack said.
Another thing Wack hopes to do is develop more ministries to serve the community. Recently, the Diocese oversaw the opening of houses for formerly incarcerated men in Tallahassee, elderly homeless men in Pensacola, and for pregnant women in Pace.
The Diocese also has expanded their use of technology in spreading the Word of God and informing people of things going on in their local churches.
In addition to livestreaming Mass, the Diocese has pursued other avenues to connect to people online.
They have a podcast called "Gaudium et Spes" and a YouTube channel where they put out content on the Catholic faith and on the work being done within the Diocese. Gaudium et Spes translates to "joy and hope" and is also the name of the Pastoral Constitution on the Church in the Modern World from the Second Vatican Council in 1965.
Wack said he is excited to see what comes during the new year and how churches across the Panhandle serve their communities.
"Looking ahead, I am excited to just start dreaming and thinking about what else do we need, what else can we do, how can we build up the church and one another here and help our brothers and sisters in many different communities," Wack said.