Airport cake takes top prize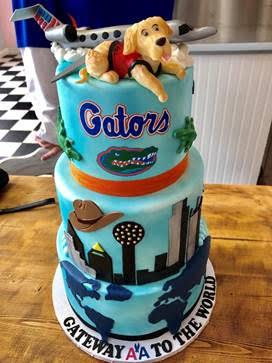 Gainesville Regional Airport's cake that celebrated the opening of routes from Gainesville to Dallas has won the Anna Aero Magazine's 2019 "Cake of the Year" contest.
The cake won over 11 over international competitors in the public-vote contest.
Newberry bakery "Sugar, Refined" created the confection, which featured almond and chocolate sheet cake covered in sky blue fondant. The airport's dog, Beamer, was featured along with an American Airlines jet floating on a cloud. The cake featured Florida Gators and Dallas Cowboys' imagery and the world.
When airports and airlines hold inaugural celebrations for new routes, over-the-top cake designs are the rule, Gainesville Regional Airport officials say.
Direct flights to Dallas/Fort Worth International Airport from Gainesville began in March.
This article originally appeared on Crestview News Bulletin: Airport cake takes top prize