Agony, ecstacy of elementary school appears in caricatures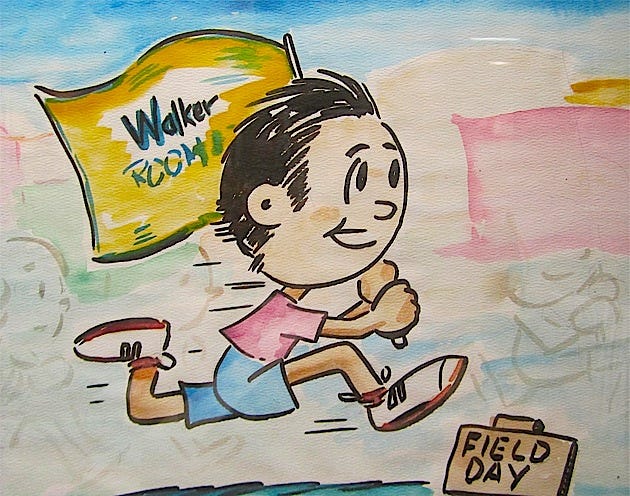 CRESTVIEW—Remember elementary school? One day, you're king of the hill before becoming the object of ridicule as the oaf who dropped his books (or worse, his lunch tray) all over the floor. However, that's OK, because you made it up the next day by being your classroom's champion book reader, speller or rope skipper.
Who could be more qualified to capture those many moments of triumph — tempered by the occasional moment of embarrassment — than a veteran educator? Many visiting Walker Elementary School parents, guardians and grandparents, eager to conduct the business of the day, may never have noticed the series of watercolors in the school office.
After 11 years as the News Bulletin's editor through most of the 1980s, Bob Overturf completed his college studies and became a teacher at Walker. He never lost his love of painting, a hobby he started in the 1960s. In this modest collection, he captured the kids he encountered over a many-year career.
In November 2011, an exhibit of many of his works opened at the Crestview Public Library. However, the Walker collection of eight whimsical, watercolor washes was not represented. That makes it special: To savor the caricatures of typical school kids, you have to go right to the source. Just observing the throng of kids that fills the hallways, classrooms and playgrounds, you can instantly identify the personality in each drawing.
"I think he'd always done a lot of cartooning," Overturf's widow Dr. Marilyn Overturf said of her husband during the opening reception for the library exhibit.
There's the happy little girl jumping rope, the fleet-footed field day runner, the happy reader, the enthused finger-painter, the eager scholar, and yes, even the lass tripping and sending her stack of textbooks flying.
How intimately we've known each personality, because each of us, at one time or another, has been each one of those kids.
This article originally appeared on Crestview News Bulletin: Agony, ecstacy of elementary school appears in caricatures