The history of each item has been carefully documented by Melvin, who has items on permanent loan to seven museums in Florida.
"Most of the people, all of the people that worked in the industry are dead," he said. "Most people don't know about it. It's my way of keeping the history alive of how hard people had to work for a living and what they had to do for a living.
"All old families, they worked the pine trees one way or another," he said.
In 1934, there were 2,000 turpentine stills active in the southeastern United States.
By the early 1960s, they were gone.
Melvin grew up in Holt in a raised house next to the railroad tracks. The family of seven had no electricity or running water. Hogs wallowed under the house, where an air conditioning effect was created by a hole in the floor.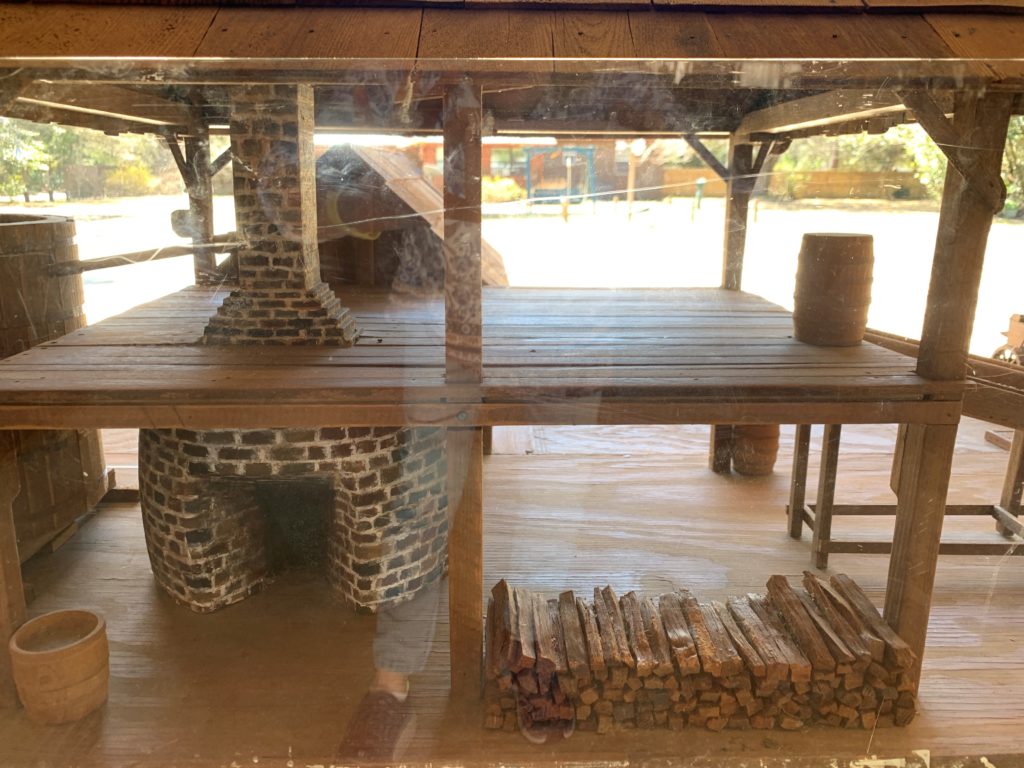 "The trains threw us off a 50-pound block of ice, Mamma put it in the house, there was a hole in the floor," he recalled. "As the ice melted, the hogs found it."
By the time Melvin was born, his father worked for the railroad, but from the age of 14 to 19, he worked in turpentine stills.
Melvin learned about "cat faces," the term used to describe the pattern of cuts in the trees that looked like cat whiskers from the right angle.
"Him and my uncles had told me all about that," he said. "You still see cat faces in the woods today. Some have healed up and some trees are dead.
"Up there north of Holt, they were cat-facing all over the place," he added. "He told me how he used to do that, how his granddaddy used to do that and his great-granddaddy."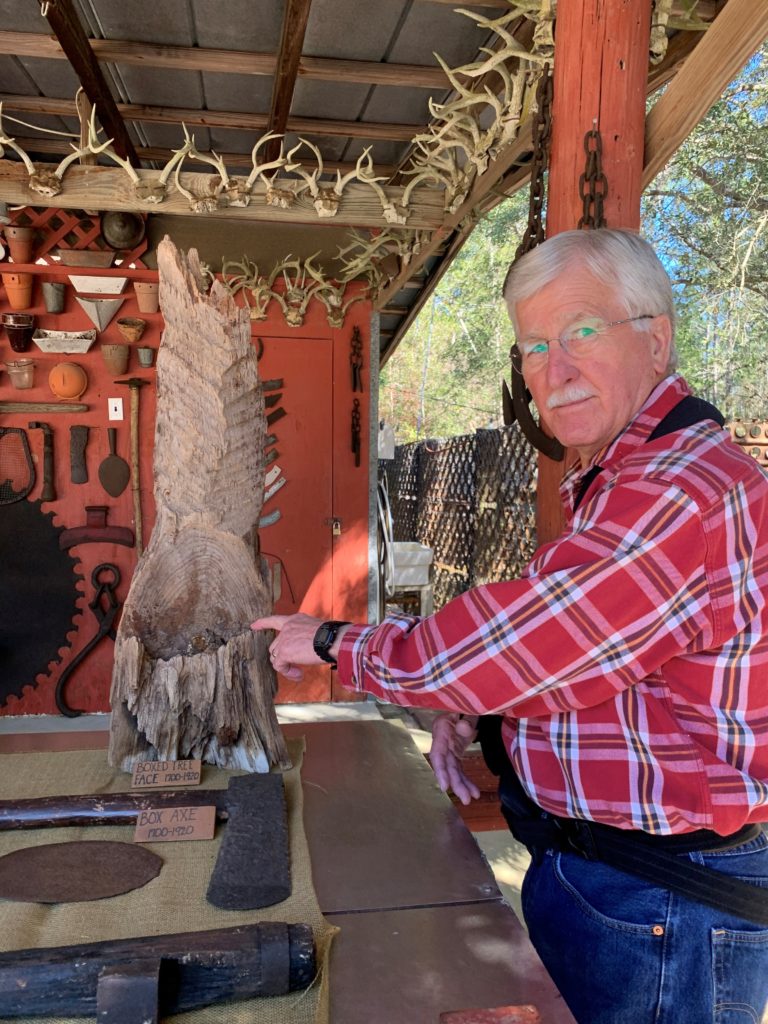 The cuts are made to cause gum to flow, which is a tree's natural response to injury. The gum was then fed into a still, where part of it vaporized into turpentine, while the rest was forced through three strainers and became rosin.
"A turpentine still is nothing but a large whiskey still," he said.
Turpentine and rosin are both still in use in a number of household and building items. You can even find turpentine, in small amounts, in some brands of gum and toothpaste, Melvin said.
From 1700 to 1903, a cavity called a "box" was cut into the tree to capture the gum. In 1903, the first cup was invented along with an "apron" or gutter to direct the gum into the cup.
Over the next 50-plus years, both of those were modified, changing in materials and shape. The most recently used cups were long metal trays while the earlier cups were ceramic, clay and even glass.
Melvin has them all, including those that were extremely rare.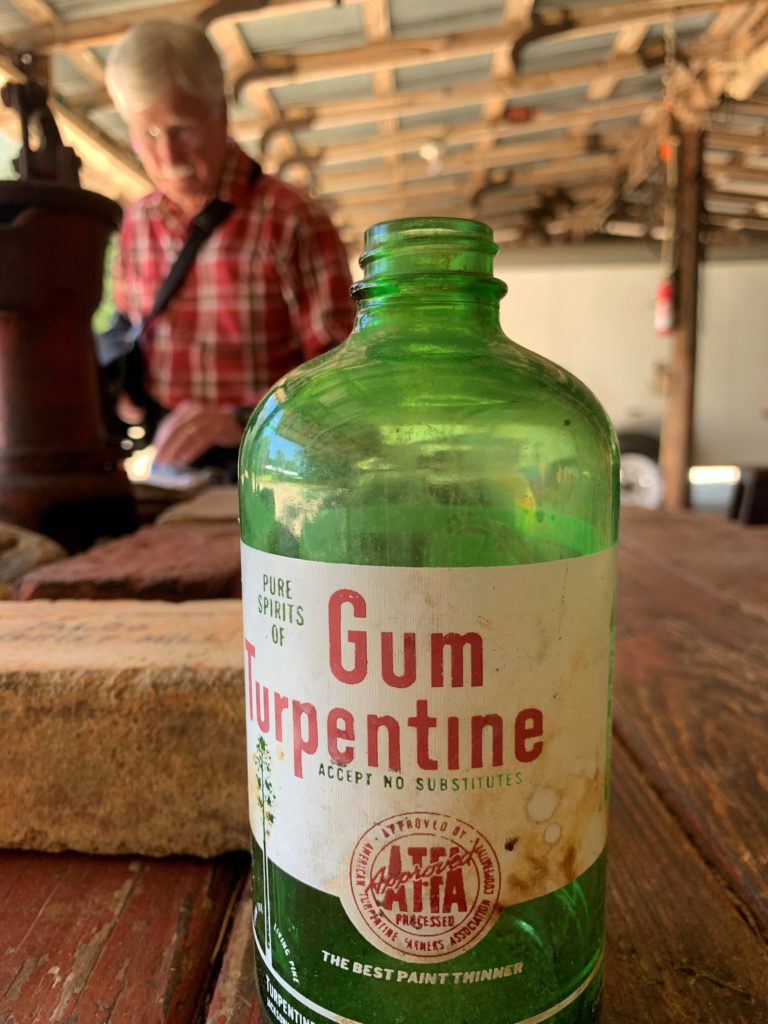 Harvesting gum was hard work and he has the tools to prove it, including wooden mallets bigger than a gallon of milk, hatchet-like tools and "racks," which had a weight on one end and a squared off hook of folded metal at the other to gouge the bark.
"You had to put a new scar on a tree once a week to keep the gum running," he said. "The weight was to give it momentum"
That meant someone with a crop of trees had to cut 10,500 faces – three on each tree – to maintain gum production each week.
In 1942, they discovered that squirting sulfuric acid into the cut would cause the gum to run for three or four weeks.
Before COVID and before he broke each shoulder – the left one before the pandemic and the right one last fall – he loaded up portions of his collection, marked with signs and supplemented with binders of information, and traveled to events, sharing his knowledge of the industry.